National Primary Route 7 Traffic Counts
1997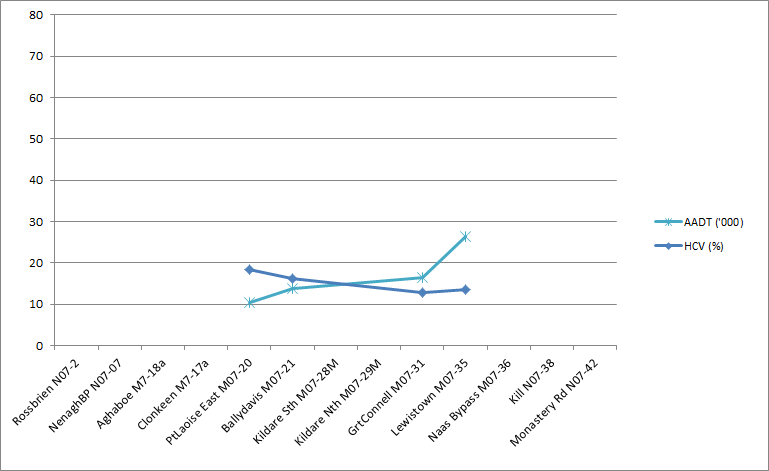 As the access route to Dublin for Limerick, Cork and Waterford, the N7/M7 was always going to be a very busy road. Close to Dublin, the 6-lane dual carriageway standard found at Kill was showing nearly 70,000 vpd by 2008, while the last available count for Monastery Road beside the Red Cow is from way back in 2002 and even then was counting 65,000. Since then, this area has been thoroughly overhauled as part of the M50 rebuild and a junction has been built. Contemporary traffic counts are unknown.
The country's first motorway, the Naas bypass, was posting 60,000 vpd in 2010, and needs 6-laning. Such work is indeed planned as far as the M7/M9 split, but the standard should be continued as far as Junction 12 (Great Connell in the graphs).
Once the Kildare bypass was completed in 2003, it posted strong growth, with the Kildare South counter peaking at around 34k before the recession started to erode it slightly.
The newest sections, represented by Aghaboe and Clonkeen above, reveal a big drop off heading west of the M7/M8 split. The fall is from around 20k to less then 10. Some of this is undoubtedly due to traffic heading south for the M8, but since Clonkeen forms part of the Portlaoise bypass, it's likely that most of it is accounted for by local traffic movements. Finally, the Rossbrien part of the Limerick ring road has posted large though uneven gains since its opening in 2004. It peaked in 2008 at around 25k.
In 2013, many more data points were measured by the NRA. Another huge drop off can be seen west of the M7/M9 split at Newbridge, where traffic falls from 60k+ at Lewistown to 40k at Great Connell. Meanwhile, near Dublin, traffic is very high, particularly at Citywest.
Show notes on counter locations
Kill (West of Junction 7)
Kill - Year on Year Growth
Naas (West of Junction 9)
Naas - Year on Year Growth
Lewistown/Naas (West of Junction 10 M7/M9 split)
Lewistown/Naas - Year on Year Growth
Great Connell/Newbridge (West of Junction 11)
Great Connell/Newbridge - Year on Year Growth
Kildare South (West of Junction 13)
Kildare South - Year on Year Growth
Portlaoise East (East of Junction 16)
Portlaoise East - Year on Year Growth