National Primary Route 4 Traffic Counts
1997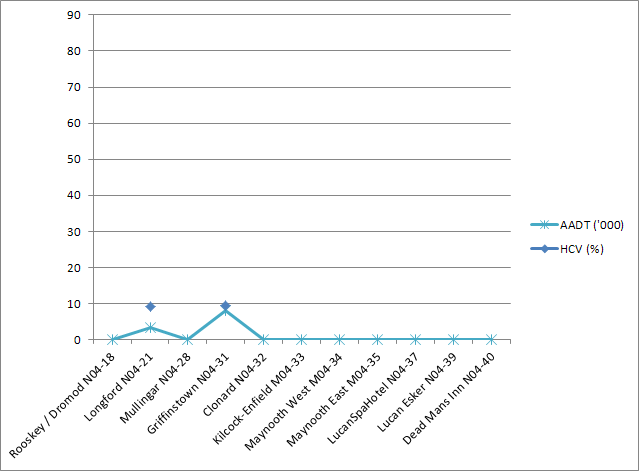 Traffic on the N4 immediately to the west of the M50 junction is very high, though recent data is not available. In 2006 the count at the Dead Man's Inn, a couple of hundred metres out from the M50, was above 80,000, while figures in the 50s were found in 2002 a junction or two west of there. By 2013, Dead Man's Inn had increased to nearly 100,000.
A little further out, a marked drop of around 10,000 vehicles is noted across the busy Maynooth interchange, as the count falls from 50k to 40. The only widening that could ever be needed on the M4 for the forseeable future is from Leixlip, where the 6-laning currently peters out, eight kilometres westwards to Maynooth. The counts for Kilcock-Enfield and Enfield-Kinnegad apply to a tolled segment, and distance from Dublin and the public's taste for paying motorway tolls shows its magnitude, which lies in the low 20s. (The sections around Kinnegad were measured on the old N4 until 2007, when they were replaced by new counters on the M4).
The generously-specced Mullingar bypass, a grade-separated dual carriageway, has seen its numbers rise from a low-teens average before 2005 to the low 20s thereafter, when the rest of the M4 opened to the east.
Finally, closer to Sligo, the Longford and Dromod/Rooskey counts are inconsequential and single-figured.
Show notes on counter locations
Dead Man's Inn (East of Junction 2)
Dead Man's Inn - Year on Year Growth
Maynooth East
Maynooth East - Year on Year Growth
Maynooth West
Maynooth West - Year on Year Growth
Mullingar
Mullingar - Year on Year Growth
Kilcock/Enfield
Kilcock/Enfield - Year on Year Growth
Longford East
Longford East - Year on Year Growth