National Primary Route 2 Traffic Counts
1997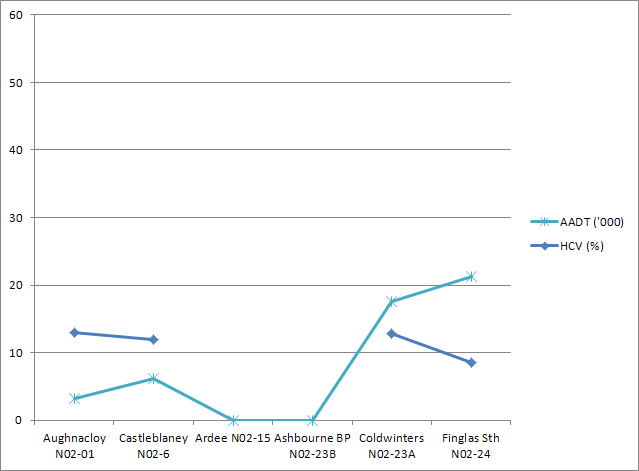 Traffic levels on the N2 are very high in the vicinity of the M50 but tail off quickly as one heads away from the city. This is mainly because unlike most other national primary routes, the N2 does not end at a specific city (technically, Derry is in another country), and it is not lined with major settlements, so there is little to stimulate demand.
At Finglas South, where the road is a dual carriageway, the latest figures show around 32,000 vpd. Coldwinters, the highest spec section of the road (a 6-lane motorway), posts around the 30k mark (for a clearly-overbuilt capacity of 82,500!), while the 4-lane motorway Ashbourne bypass is hovering in the low-20s.
The last available count for Castleblayney and its 2+1 bypass is from 2007 and is just below the 10,000 vpd mark. Levels at the Northern Ireland border are even lower, though they actually doubled in the last 10-15 years from around 3,000 to 6,000. Anything more than a good single carriageway here is hard to justify.
Overall, no large improvements in capacity seem to be needed for the N2 corridor; just some town bypasses to eliminate through-traffic from village centres. There is, in any case, reason to believe that most of the N2 may eventually be detrunked and traffic redirected via the M1, rejoining the road at Dundalk or Drogheda on the way to Derry.
In 2013, many new traffic counters were added.
Show notes on counter locations
Coldwinters (North of Junction 1)
Coldwinters - Year on Year Growth
Ardee South
Ardee South - Year on Year Growth
Castleblayney
Castleblayney - Year on Year Growth